Join The Beacon House Team by becoming a monthly recurring donor. Your genorisity will go a long way.
The Beacon House Association of San Pedro was founded in 1970 by Father Art Bartlett, director of the Episcopal Seaman's Center on 11th and Beacon, and Michael Dowling, a merchant seaman and recovering alcoholic. They envisioned a home where men struggling with alcohol can "sober up" and get back on their feet. Through dedicated staff, incredible generosity, unparalleled community support, and an unfailing sense of the program's values, what was once a shelter for recovering alcoholics has grown into a comprehensive substance abuse recovery program for men.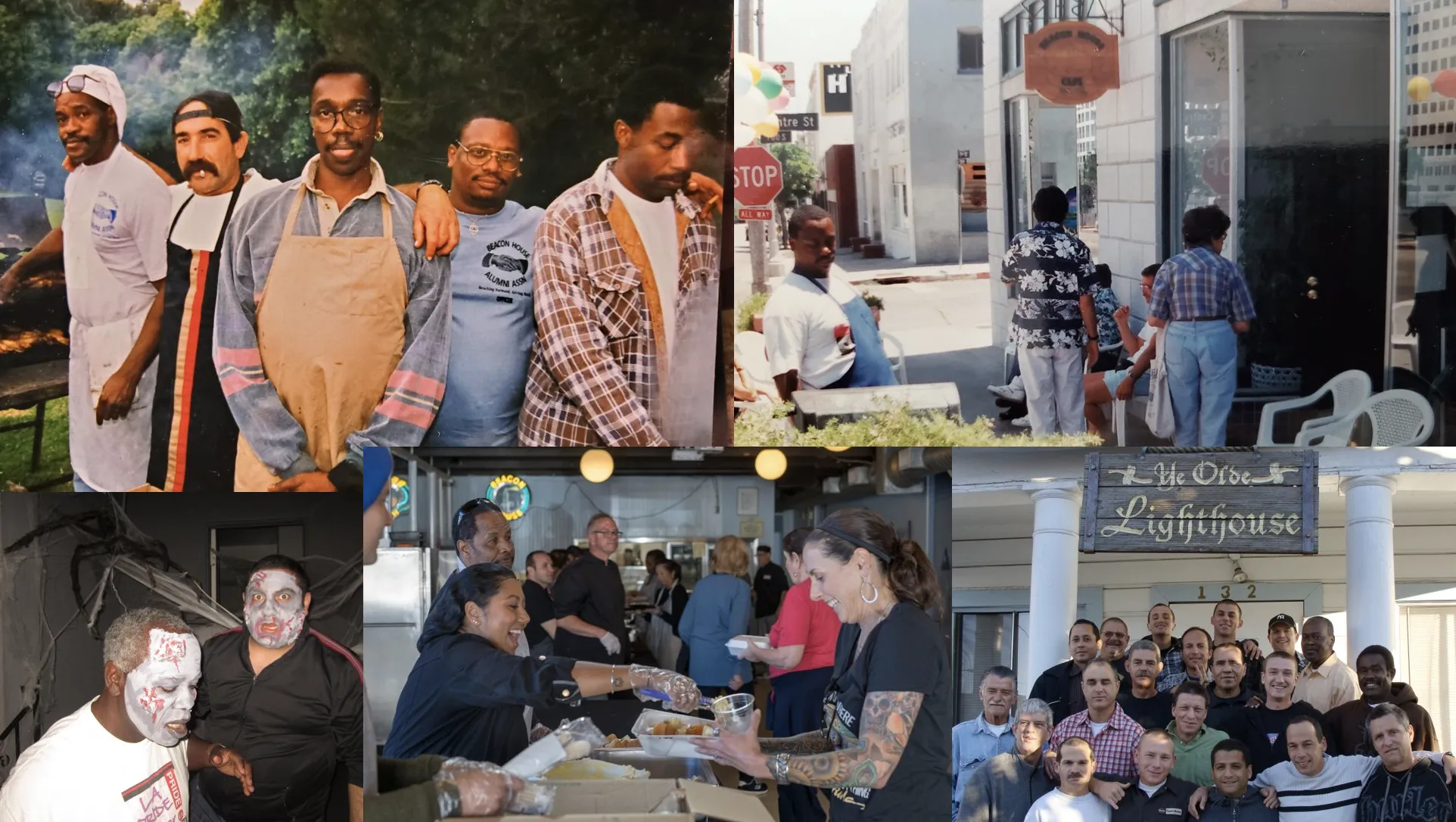 Over the past 50 years, Beacon House has undergone several changes in leadership, grown 0 employees into 35+ employees, and grown from a single 2-story building housing 18 residents to an entire campus with 5 residential facilities and 103 beds. Beacon House has witnessed the "war on drugs", sweeping changes in the sociocultural landscape, the proliferation of the internet, the COVID-19 Pandemic and the fentanyl crisis. Despite changes in the environment and within the organization, the through line that connects 1970 to today is the organization's uncompromising dedication to its mission. Beacon House has been helping men recover from alcoholism for over 50 years.
1970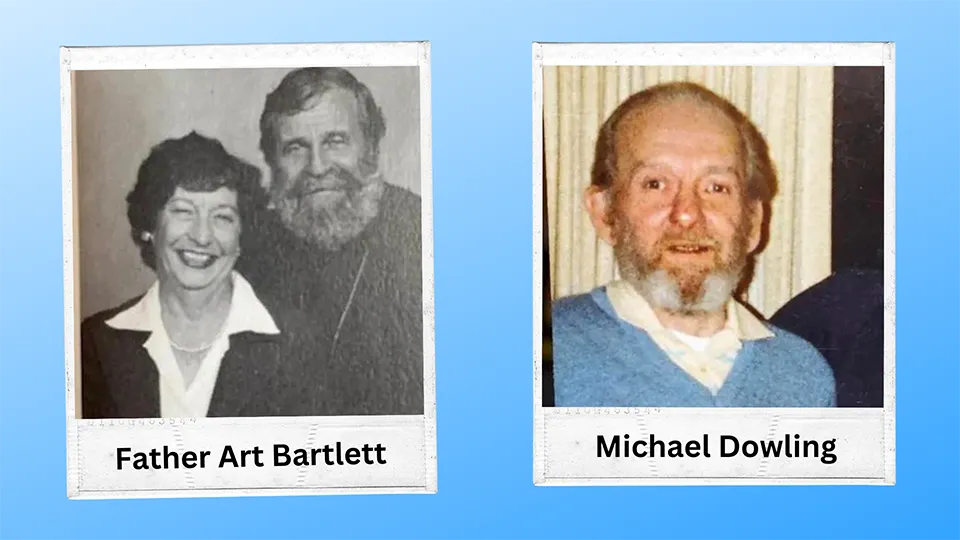 In 1970, Father Art Bartlett, director of the Episcopal Seaman's Center and clergyman of St. Peter's Episcopal Church, recognized a need in the community. His work in the church led him to interact with many seamen with alcohol and drug abuse problems—some of whom he observed to have serious issues and in need of help. This led him to conceive of a "recovery home", a residential treatment program where men could stay to "get sober" from alcohol and other drugs. One fateful Sunday, Father Bartlett and merchant seaman Michael Dowling looked out over the Port of Los Angeles and envisioned a "Beacon House", a men's home that could act as a beacon to many a foundering alcoholic. Shortly thereafter, "Beacon House" was born.
1973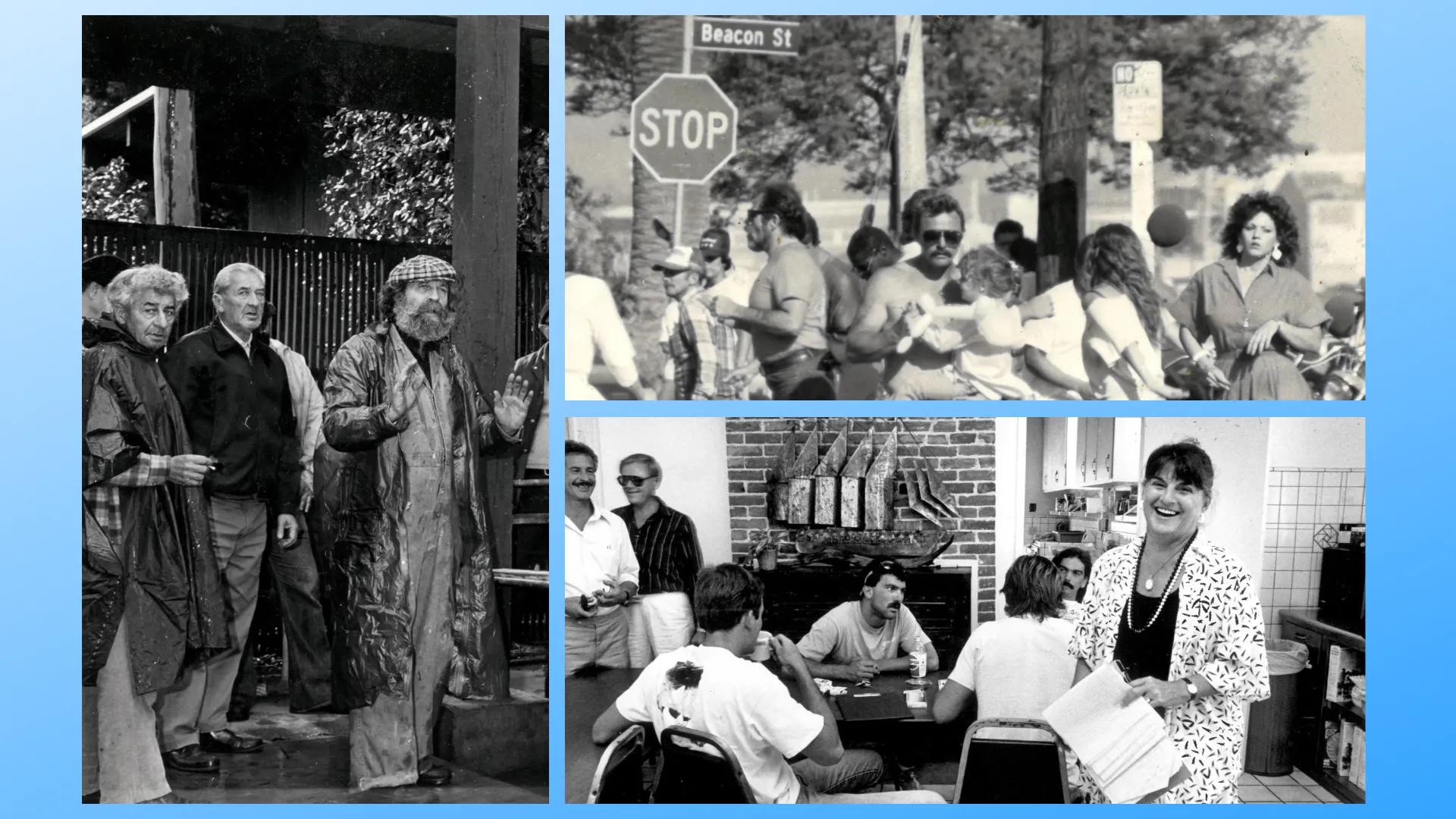 A group of leaders in the local recovery community came together as the organization's first "Board of Directors" and on December 3rd, 1973, executed the Articles of Incorporation for "The Beacon House Association of San Pedro". The express purpose of the organization was identified, in writing: "…to assist men who seek recovery from the disease of alcoholism and/or addiction to other habit-forming chemicals." 12-step philosophy were built into the very foundation of the organization, with the Articles of Incorporation stating: "The Association will attempt to provide food and shelter for these men and to help them by counsel and the use of the Alcoholics Anonymous program, to rehabilitate themselves, to the end that they may once again return to normal useful lives." In the early years, Beacon House operated, essentially, as a shelter for men seeking sobriety through the Alcoholics Anonymous program.
1985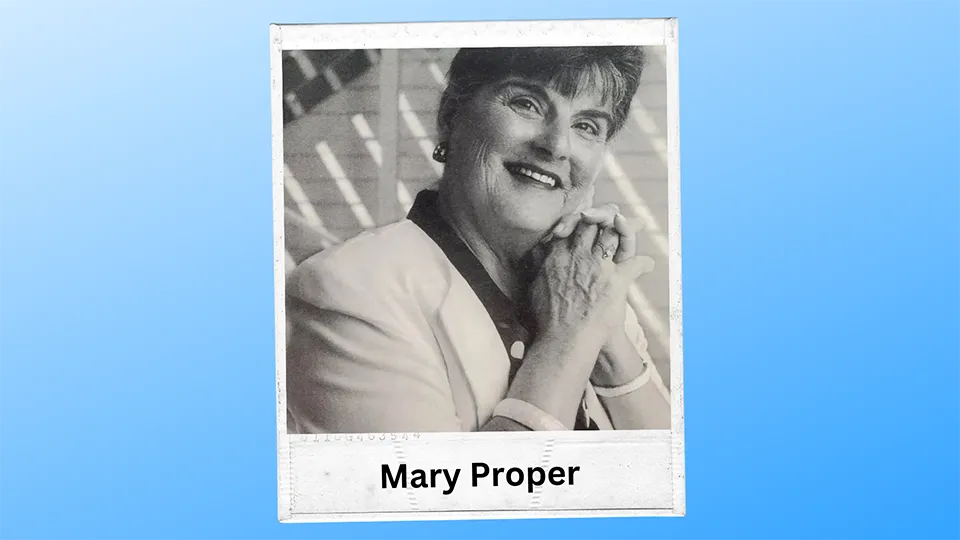 In 1985, looking to institute a programmatic structure to the fledgling organization, The Beacon House Association of San Pedro hired its first paid employee and first "Executive Director": Mary Proper. Mary understood that for the men of Beacon House to achieve meaningful change in their lives, the program must necessarily be a difficult one, one engineered to help men change their habits, behavior, and lifestyle. Mary thought it important that the men in the Beacon House program have structure and discipline—and so she devised the Beacon House's first programmatic curriculum. Many of the "Primary Program Components" that were first designed by Mary Proper are still in place to this day, in some form or another: "Morning Peer Group", "Resident Council", "Big Book, Traditions Studies", "Community Service", and "Mandatory Fun", to name a few.

The implementation of a formal program structure and the hiring of an Executive Director meant sustainability for Beacon House. Thus, the 90s was a period of aggressive expansion: add more beds so we can help more men. From 1986-1998, the Beacon House purchased four residential facilities and a meeting hall, and leased two additional residential facilities, increasing total capacity by nearly 100 beds.
2000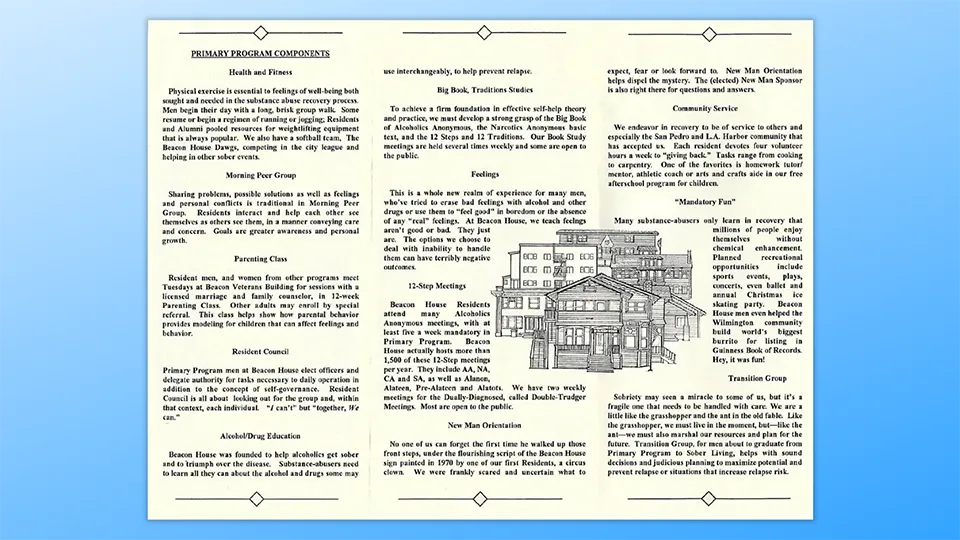 Much of the 2000s was spent developing and refining the culture of the program. Program staff worked hard to help keep the program steeped in 12-step philosophy, character building, and spiritual values. Meanwhile, Beacon House deepened its relationship with the community through the men's prolific community service: sweeping the streets of San Pedro, landscaping the local community, working sanitation at local events and festivals, reading to kids, working parade routes in the surrounding communities, and providing volunteers wherever the community needed help. Many came to know Beacon House through our community events: Block Parties, Haunted Houses, our Annual Christmas Tree Lot, our Thanksgiving Day luncheon to feed the local homeless communities, our Christmas Day Toy Drive for local kids, and our monthly Community Bistros. Love & service has always been the link between Beacon House and our community.
2019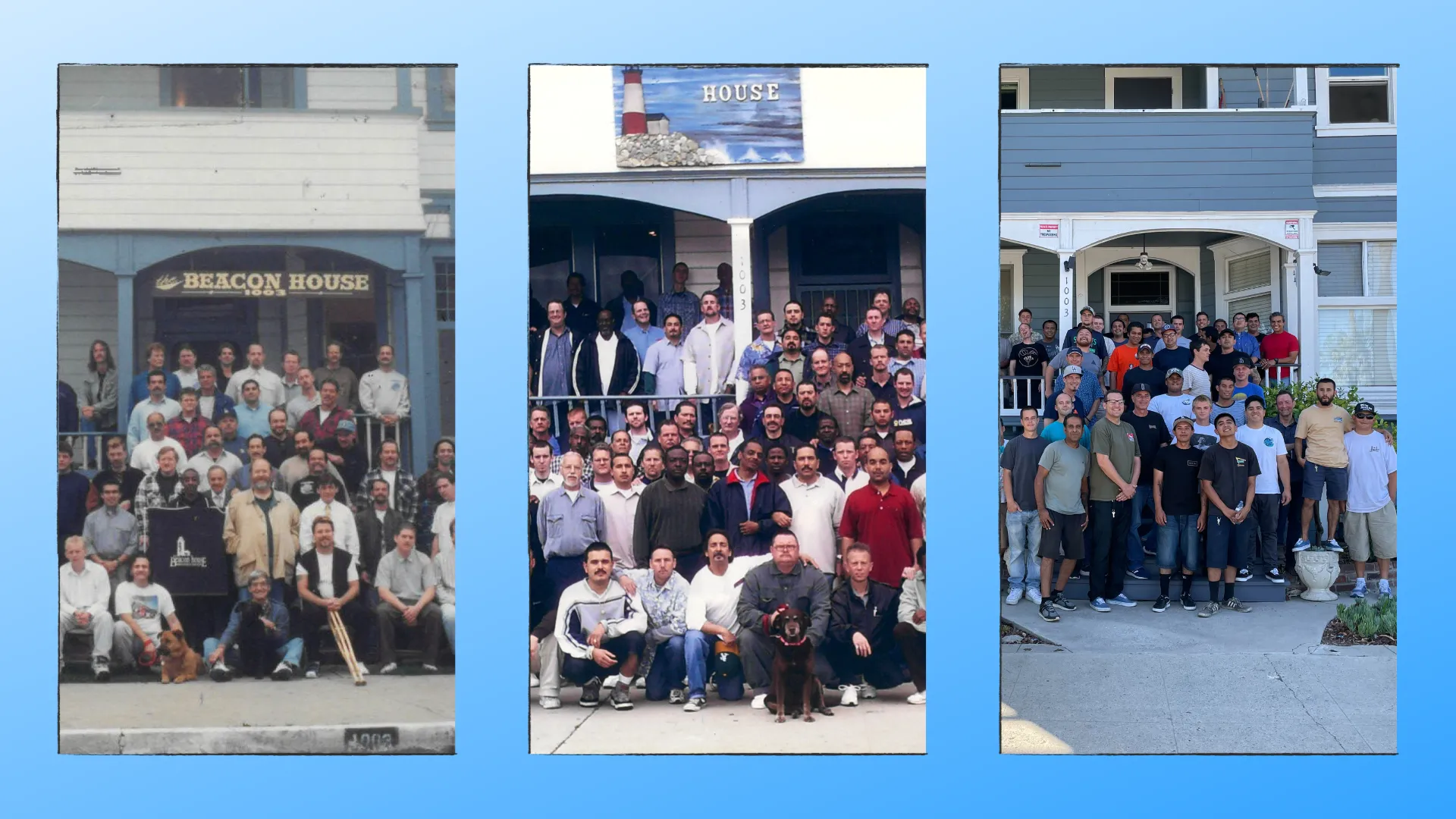 The past several years have been characterized by Beacon House adapting to the changing legal and regulatory environment of substance use treatment as the opioid epidemic and fentanyl crisis loom large in the background. Additionally, innovation and entrepreneurship has led to Beacon House adding a robust Workforce Development program that comprises two key Social Enterprises: Beacon House Thrift Stores, and Beacon House's Culinary Program. Through these Social Enterprises, men have been allowed to learn marketable job skills while further developing their recovery program, better preparing them to reintegrate into society. Beacon House has seen many changes, and it has weathered many changes in its environment, but one thing has never changed: our mission. The scale and footprint of Beacon House's operations have grown significantly, and its program offerings are better than ever before, but at its core Beacon House continues to do one thing really, really well: help men recover.
We understand the importance of addressing addiction and mental health issues in order to improve the overall well-being of our clients. We believe that recovery is possible for everyone and that everyone deserves the opportunity to receive the necessary support and resources to achieve it. Through our comprehensive treatment program, we aim to provide men with the tools and skills they need to overcome addiction and lead fulfilling lives.